PHARMA COLLOQUIUM 2020 is an arena for interdisciplinary exchange among professionals in the fields of pharmaceutical technology and its related aspects. Pharma Colloquium 2020 incorporates about each stage of information, advancement, innovation and organizing; and has a target of making a worldwide gathering for academicians, specialists and business experts to discuss the soundest issues related to pharma, Biotech and Health Care.
Conference: 14th – 15th September, 2020 (Toronto, Canada)
This conference is a unique international platform that's a confluence of all pharmaceutical Industry, Academia, Researchers, Innovators, Regulators — coming together to present and discuss current topics on recent research and development in pharmaceutical industry and many more highlights will be available to discuss the latest issues and trends in pharma industry. It is not only increased the number of opportunities to network with colleagues from across the world but also introduced more focused sessions that will feature, special panel discussions, and livelier interaction with industry leaders and experts. Attend the PHARMA COLLOQUIUM 2020 to network with your peers, exchange expertise and experiences, and arm yourself with the latest information to take your department to the next level.
This program provides two days of robust discussions in the field of Clinical Trials, Pharmaceutical Formulations and Drug delivery system, Pharmaceutical GMP, GCP & Regulatory Affairs, Medicinal Plants, Traditional Medicines and Marine Drugs, Medicinal Chemistry & Computer Aided Drug Designing, Pharmacology, Neuropharmacology, Pharma Marketing, Orphan and Rare Disease and more. The conference program emphasizes evidence-based practice, educational innovation, practical application, and peer to peer networking and collaboration. The goals of the conference are to provide a transformative professional development experience through. Bringing together the world's scientific experts to showcase the advances in scientific knowledge about Pharmaceutical R& D and its related aspects to present the most recent research findings and promote and enhance scientific collaborations around the world.
Salient features:
Meet Academia and Industry visionaries to get inspired
Expand your knowledge and find solutions to problems
Knowledge, Benchmarking and Networking offered at one place
Forge connections and for global networking
Highly Organized and Structured Scientific programs
Poster presentations and world class exhibitions
Meet with new vendors and suppliers
Who should attend:
PHARMA COLLOQUIUM 2020 Is exclusively designed for Researchers, Academicians, Industrialists, Early Career Scholars, students along with Industries and others engaged in endeavors related to Pharmaceutical research and business.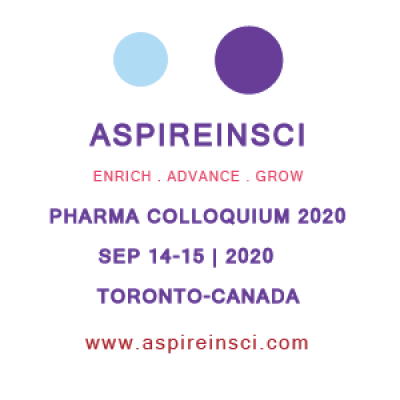 Conference highlights
Clinical Research & Clinical Trial
Pharmaceutical Formulations
Pharmaceutical Analysis & Analytical Chemistry ¢ Pharmaceutical GMP, GCP & Regulatory Affairs ¢ Biosimilars& Biologics
Ethanopharmacology, phytochemistry and pharmacology ¢ Biomarkers and Biosensors
Bioavailabity and Bioequivalence
R&D role in the Pharmaceutical Industry
Medicinal Chemistry & Computer Aided Drug Designing ¢ Drug Discovery, Design & Development
Pharmaceutical Manufacturing
Drug delivery system
Advanced Pharmaceutical Analysis
Pharmaceutical Technology and Development
Nanotechnology in Pharmaceuticals
Novel Drug Delivery Systems
Pharmacology & Toxicology
Pharmacovigilance and Risk Management
Clinical, Hospital and Industrial Pharmacy
Applied Pharmaceutical Sciences
Natural Products & Marine Drugs
Growth Strategies for Pharmaceutical Industries
For details and to register, visit the website at http://www.aspireinsci.com/about-conference.html